Prep Time
:

30 min to 1 hour
Yield
:

Makes around 10 medium-large sized balls
Rava / Semolina - 1 cup

Sugar - 1 cup

Ghee - 25 gms

Milk - 25 ml

Cardamom powder - a pinch

Cashew nuts - 10 whole nuts

Raisins - 10 nos

Grated fresh coconut - 25 gms
Heat 2 tsp of ghee in a kadai. Once the ghee is hot enough, simmer the flame and roast cashew nuts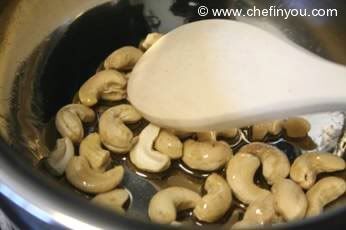 Once the raisins balloon up, remove. Then roast the grated coconut.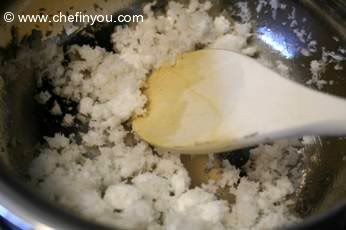 Remove once done. Keep all these aside. Add the remaining ghee and roast the Rava till its well roasted and aroma starts coming out.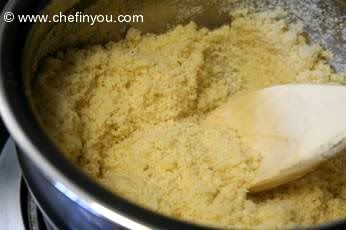 In a bowl, take all the roasted Rava, Nuts, Coconut and add the Cardamom powder. Then add the sugar. Mix well.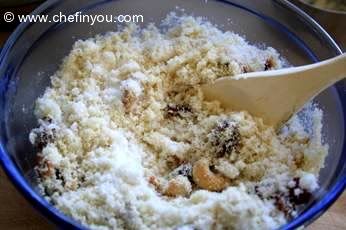 Then slowly add the warm milk into the bowl. Check if you are able to gather as balls.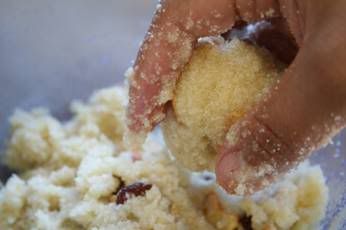 When you find that milk added is enough to get you laddos, transfer it back to the kadai and cook in sim for 2 mins. Mix well and then cover it and let it rest for 2 mins. Notes : For some reason I found this step unnecessary for me since it formed into perfect balls for me at the get go and even without following this step it came out super yummy. Then immediately make balls or laddoos.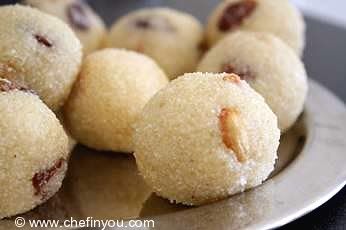 Notes: While roasting the Rava, make sure you have the flames in sim, else there is a chance of the rava getting over roasted. Its enough to add only the required amount of milk to get you form balls. Depending on the rava and the sugar at times we may not use all the 25 gms Since we add milk, its best to consume within 5 days of making them. If you store them in fridge, you can have them for a week. The other version followed is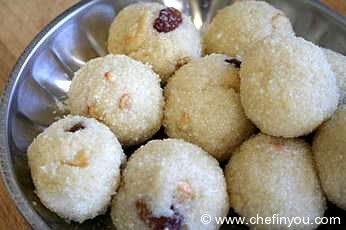 The rava after being roasted can be powdered using a blender. Add sugar to this and make a powder. Add a little ghee to this mixture and make small balls out of this.
ii

.

Rava Kesari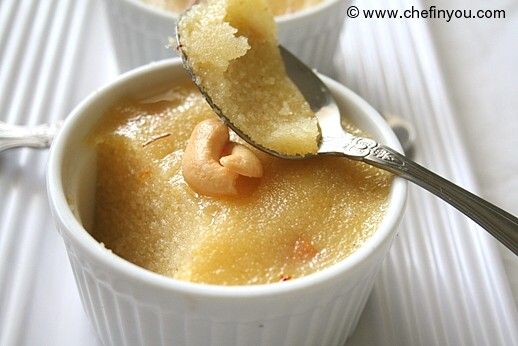 1/2 cup Semolina (Rava, sooji)
1 cup water
1 cup Sugar
1-2 tbsp broken cashews
2-3 tbsp Ghee (clarified butter)
1/4 tsp cardamom powder
Pinch of saffron
Few drops of food coloring (optional)
Few drops of flavor essence like pineapple, mango, rose etc (optional)
In a skillet heat the ghee. Roast the cashews until brown.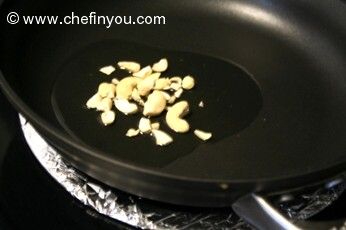 Remove the cashews and set aside.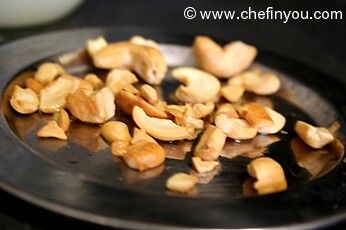 In the same pan, roast the semolina for 2-3 mins in low flame. It will start being aromatic. The purpose for doing this slow roasting is dual. One for avoiding lumps while adding water later and also to get rid of the rawness of the semolina. Alternatively bring the water to a boil.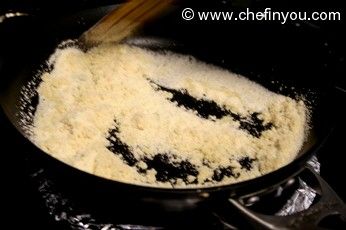 Now slowly add the water to the semolina,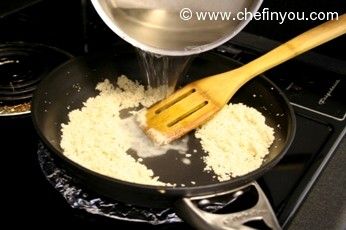 making sure to keep stirring the pan
so that the semolina does not form into lumps.
The semolina should be completely cooked and you can find it out by touching it. It will be soft, will not stick to the sides and will come together as one mass.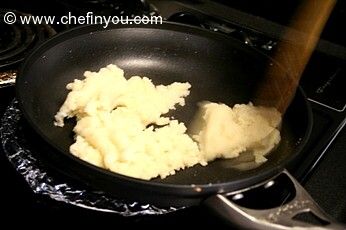 At this point add the sugar. Make sure to add sugar only after the semolina is well cooked.
Sprinkle it over evenly on the surface.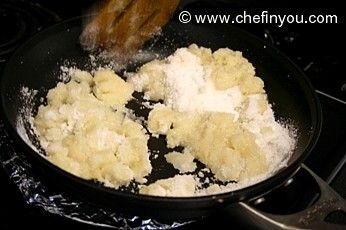 Keep stirring while the sugar melts.
and comes together into a thick pudding like consistency.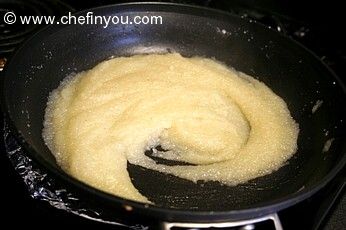 At this point add the saffron, cashews and food coloring if using (I added 1 drop of food coloring this time. I usually don't.) You can also dissolve the saffron in few drops of hot milk and add it.
Tips:
For different tastes/variety you can add few drops of essence at this stage like pineapple, mango, rose, vanilla etc.
Remove from pan and Serve it hot garnished with cashews if desired.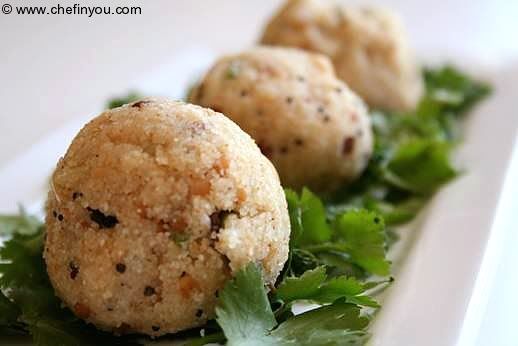 Ingredients
1 cup semolina (not semolina flour)
1 tsp mustard seeds
1 tsp black gram dal (urad dal)
1/8th tsp asafoetida
1 dried red chilli, broken into small pieces
1-2 green chillies, thinly sliced, as per taste (optional)
1 inch piece, ginger root, peeled and chopped finely
1-2 tbsps cashews
Salt to taste
Curry leaves and cilantro(optional) to garnish
Method
1
Dry roast the semolina in a skillet until aromatic and toasted
2
Set aside and in the same skillet, add 1 tbsp oli/ghee and temper with mustard seeds,urad dal, red chillies and saute till the mustard seeds start popping.
3
Immediately add rest of the ingredients except semolina and salt. Saute for 30 sec to 1 min
4
Add 2 cups water and let it come to a boil. Add salt.
5
Now add the toasted semolina, slowly while continuing to stir the mixture.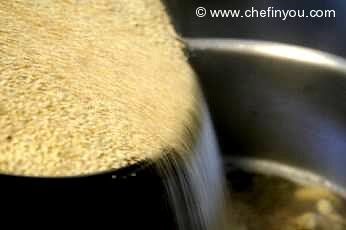 6
Be careful and keep stirring otherwise the semolina will get lumpy. This step takes approx. less 1 minute to cook.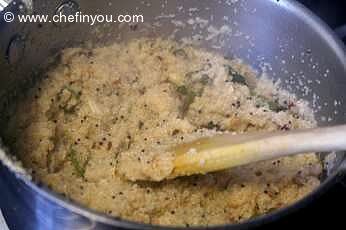 Serve warm garnished with cilantro is using. A little ghee drizzled on top will help to take this dish to the next level!:)
Ingredients:
1 cup wheat sooji/rava (medium thick)
1/2 tea spn mustard seeds
1/2 tea spn grated and crushed ginger
2-3 finely chopped green chilies
1 tea spn chana daal
1/4 tea spn soda
3/4 cup grated carrot
1 tbl spn cashews(optional)
2-3 strands of coriander leaves
2 tbl spn grated coconut(fresh or frozen)
1 cup yogurt/curd
1-2 tbl spn oil
Salt
Method:
Roast sooji till a nice aroma comes out.
Heat oil and add mustard seeds. When they start popping, add ginger, green chilies, chana daal and fry for some time. Switch off the heat and immediately add sooji, mix well.
Add salt, soda, carrot, coriander leaves, coconut, yogurt/curd and mix well. Leave it for around 30mins.
Grease an idli stand. Keep half cashew and then put the mixture on top (so that when the idlis are removed, the cashews can be seen at the top). Steam for around 12-15mins.
Serve hot.
Serves: 2
Preparation time: 30mins (excluding standing time)



3/4 cup semolina (rava)




3/4 cup rice flour (chawal ka atta)




1/2 tsp cumin seeds (jeera)




2 green chillies, chopped




a pinch of asafoetida (hing)




a few curry leaves (kadi patta), chopped




a few cashewnut (kaju) pieces and a few dry coconut (kopra) pieces (optional)




1/4 tsp baking soda




3 tsp oil




ghee for frying




salt to taste
Method
Mix both the flours and add the soda bi-carb, salt and enough water (approximately 4 cups) to make a very thin batter.
Heat the oil in a small vessel, add the cumin seeds and fry until they crackle. Add the green chillies, asafoetida, curry leaves and fry for a few seconds. Add this mixture to the batter.
Heat a tava and grease it lightly with ghee. Pour 1/2 cup batter in a circular manner. If you like, add a few cashewnut pieces and coconut pieces.
Pour a little ghee in the holes of the dosa, fold in a triangular shape and cook until crisp.
Serve hot with coconut chutney.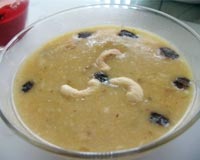 Ingredients:




• 1 litre Milk

• 100 gms Wheat Rava

• 200 gms Sugar

• 1 tbsp Cashew Nut

• 1/4 tsp Cardamom Powder

• 2 tbsp Ghee

• 1 cup Water

• 1 tbsp Raisins
How to make Rava Payasam:
| | |
| --- | --- |
| • | Heat little ghee in a frying pan. |
| • | Fry cashew nuts and raisins in ghee. |
| • | Fry wheat rava in the remaining ghee until the raw flavor gets lost. |
| • | Boil 2 measures of water in a thick vessel. |
| • | Add fried wheat rava and cook. Add sugar. |
| • | Allow the mixture to boil for about 2 to 3 minutes. Remove from the flame. |
| • | Boil and add the milk to payasam. |
| • | Mix cashewnuts, raisins and cardamom powder. |
| • | Rava Payasam is ready to serve. |