CHUIDAR
The tight fitting bottoms with long tops have become very popular among girls and women all over the Indian subcontinent. Churidars is preferred for its quick wear, comfort and easy packing at times of travel. Since the gathering near the tight ankle looks like a bangle, it is known as churi-dar or bangle like. Indian women prefer churidar salwar kameez in cotton material as it is suitable for college and office wears.
Churidars are available in designer styles, bollywood types, Pakistani types and Anarkali types. These churidar salwar kameez may have simple yet exquisite thread embroidery or elaborate embroidery with sequins, beads or stones. The material of which the Churidars is stitched determines its usage. For example silk ones are used for festive seasons. Georgette churidar salwar kameez and the ones in chiffon material are worn for parties while cotton Churidars are mostly preferred for office wear.
It has many different names. Call it Salwar Kameez, Shalwar, Curidar, Kameez & pyjama.

India has been known to have wonderful dresses and costumes specially Salwar Kameez. Though the majority of Indian women wear traditional costumes, the men in India can be found in more conventional western clothing. Tailored clothing is very common in India as women's blouses have to be made-to-fit. Clothing for both men and women has evolved and is keeping designers busy.

Salwar Kameez helps keep cool on those hot sweltering days as it doesn't cling to the body.

A Brief History of Shalwar Kameez in India

Shalwar kameez is the traditional dress worn by various peoples of south-central Asia. Specially in India and Pakistan it's very popular dress. Shalwar is a short loose or paraller trourser pyjama. It can also be narrow which is called churidar.
Kameez is like shirt or tunic. Kameez is traditionally cut straight but now with changing Indian fashion and world fashion needs, the designs & cuts have changed.
To beautify shalwar (salwar) kameez, wear stole, it's called dupatta. The stole or scarf comes in variety of fabric such as bandhani, silk, georgette, etc. For younger generation, dupatta is simply a stylish accessory that can be worn over one shoulder or draped around the chest and over both shoulders.
Churidars materials are available in a wide range of fabrics with a lot of design options. The neck pattern, length and the body shape is also handled while determining the Churidars style. Printed churidar salwar kameez material is a fast selling material and many young women love to opt for the same. Among the ornamental Churidars anarkali churidar salwar kameez seems to be strongly in vogue in the recent past. Due to lack of time and to have an optimized view of what is available, people are opting to buy Churidars online. churidar salwar kameez is here to stay and would be a favorite Indian wear for the years to come.
A churidar salwar is a baggy drawstring trouser that bunch up tightly along the lower calf. Worn traditionally with kameez kurta, it's name comes from the wordchoori meaning bangles. The bunched folds along the bottom half of the calf gives the effect of several bangles worn together.

Chudidars are usually fine muslins or cottons, in white color. The traditional churidar is tied with a nara at the waist. Churidar salwar is a long tight fitting type, which develops various folds on the lower calf the Indian churidar suits consists of three elements in it's creation namely the kurta, payjami and a dupatta.

This is just the ideal type for slim and trim figure. The Indian churidar suits are designed keeping in mind the structure of Indian women
The traditional churidar is tied with a nara at the waist. What is special about them is that they are longer than the legs. The payjamis of churidar suits can be categorized in two forms namely Aligarhi (Straight) fit, Lucknawi (gathered creases) fit. Their extremes are crinkled and crumpled to fit. Creases thus developed resemble 'churis' or bangles, hence the name churidars.
A churidar is a perfect accompaniment to long kurtas and sherwanis. Churidar suits come up in varied styles ranging from simple churidar to designer churidar style suits. They are exquisitely designed to match up with your mood and expectations. The silhouette drapes the feminine form with a dramatic flourish. An array of designs with various themes splashed the markets in wide range. It is a complete spectrum of designer, stylist and contemporary attire in the fast flourishing industry. Our designers did pretty well in the designing of churidar suits with their innovative ideas.
Chic Bottoms
With the new fashion trends coming up salwar kameez have under gone a wide change. Trousers, parallels, capris, patiala salwars have taken place of normal salwars thus changing salwar kameez patterns.
Salwar Kameez Suits
Salwar kameez is a most comfortable outfit for women whether its daily wear or formals. Salwar kameez are available in large variety i.e embroidered, printed, different colors and fabrics.
Beautiful anarkali churidar ladies suit made in georgette and brocade.The corset style upper of the anarkali is made in brocade(color may vary as per availability) and the stylish kalis or flair is in the attractive pink color. It is beautifully embellished with golden sequins and stones all over and has matching duppatta with golden gota lace at its borders. Just the perfect choice for any special occasion.
CHURIDAR SALWAR KAMEEZ
Desire gives birth to new things. Similarly Churidar Salwar Kameez is a result of a desire. Desire changed or modified the traditional salwar kameez into churidar to look sexy and slim trim.
Churidar Salwar Kameez is not exactly like a traditional salwar kameez. It is not wide as the salwar in traditional salwar kameez. There is a lot of difference in between the curve and cuts of churidar and traditional salwar. The Kameez may be same as it is in the traditional salwar kameez.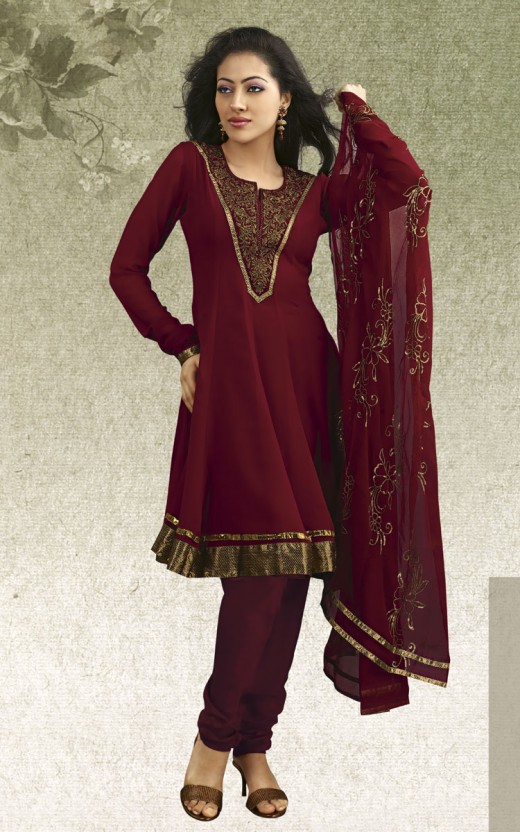 In churidar salwar kameez, the salwar has more length if we compare with traditional salwar salwar length, because wrinkles come on the ankle in churidar salwar. The top part has the belt like traditional salwar kameez and pleates also. In churidar, the upper portion of the salwar is not wide spread like traditional salwar, it is 4-5 inches loose than the hips measurements. There is a tunnel on the top portion for drawstring like the traditional salwar.
In totality churidar has a leg like shape with few inches margin for leg movements.
The upper portion "Kameez is same as traditional kameez. Normally it is long upto knee with long or short sleeves as desired. There are long side slits and bottom curve may be round and straight as per desire. Churidar comes under the basic design category.
BOLLYWOOD SALWAR KAMEEZ - ANARKALI SALWAR SUIT
INDIAN BRIDAL SALWAR KAMEEZ


- ANARKALI CHURIDAR SUITS
DESIGNER SALWAR KAMEEZ - ANARKALI CHURIDAR SALWAR KAMEEZ